This site is under construction....
The toolbar menu allows you to customize TurboLog 4's menu system. You can place any sub item of the main menu on the action toolbar. Preferably you will place your favourite items on the toolbar in order to access actions most rapidly. This saves you from stepping through menu trees which may be time consuming and error prone. With the item on the action toolbar you just cannot forget where to find it in the menu system.
You can enter this facility by selecting the Toolbar item from the Configuration Menu:

Figure 145: Toolbar Menu
This will pop up the following frame: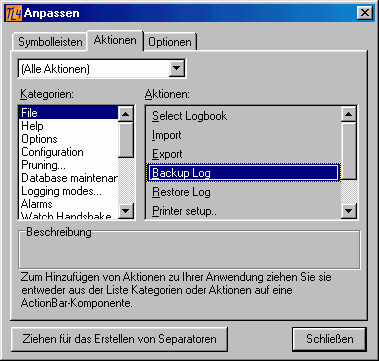 Figure 146: Toolbar Setup Menu
The frame mainly contains two drop down boxes to select menu items from. Main menu items ( categories ) are listed in the left box. This is where you will need to make your first choice on the main menu item. sub items under this menu are listed as actions in the right box. Please select the item you want to place on the action toolbar. Now click this item and place it on the toolbar by drag & drop action.
..........Topic to be extended later.....
This topic was last edited on Thursday, 17-Jun-2021, at 10:49