This facility is very helpful in tracing the Packet and COM-port communication in TurboLog 4. Both raw input data from internet and Packet Radio clusters will be displayed. The display will be in strict timely order. In order to prevent the display to become too messy the CAT communication will only be recorded in separate trace files under the TurboLog 4 root directory ( e.g. ...\CAT.TRC and ...\CAT.LOG ).
Please note:
Tracing information from device drivers will only be available if the particular options on the setup tab sheets have been checked.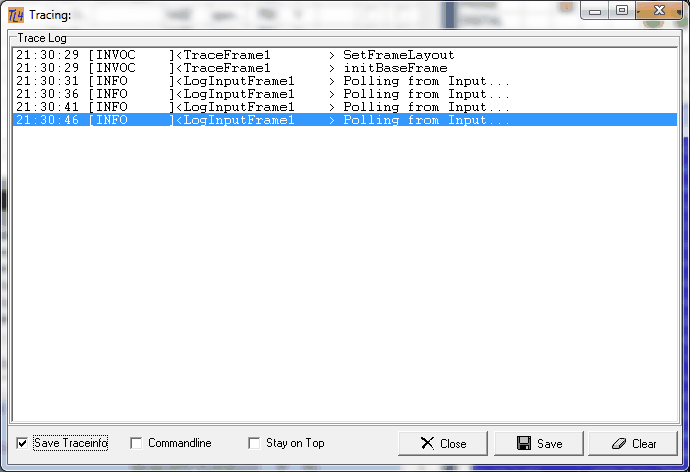 Figure 91: The Trace Window
You will appreciate the Stay on Top facility. Checking this item will keep the tracing window always on top of all other windows opened in TurboLog 4. Ticking the Save Trace info box will store the tracing results under the TurboLog 4 root directory. The Command line box will pop up an input line.
The trace window is well suited to build confidence in the dupe check facility which can be activated from the Packet menu. Whilst you see identical spots coming in as raw data you will realize that only the first spot is displayed and signaled on the Packet grid.
Clicking the Clear button will remove all content from the trace window. Clicking the Close button will close the window. The Save button will allow you to store the tracing information in a directory of your choice. Reopening the trace window requires to move to the View Menu sub item Trace Window again. Please further note: This window will only be opened on user command. This action will be required for each new session.
More tracing info about internal program states can be gained via the context menu which is available by clicking the right mouse key while the mouse is over the trace window area. A pop up appears showing the following options:

Figure 92: Trace Context Menu
Checking the Trace INFO item will yield the CAT polling activity as shown in the screen shot above. This is of interest for the user whilst the other items are important for purposes of remote diagnosis.
Furthermore, the Trace INFO item will yield the details in case of skipped records during an import operation.
CLICKABLES and HOTSPOTS:
| | |
| --- | --- |
| Right mouse key | pops up context menu |
This topic was last edited on Thursday, 17-Jun-2021, at 10:49