This paragraph outlines some of the single and multi QSO label samples which are available off the shelf in TurboLog 4 . These examples can be utilised to easily derive customized labels from them in order to fit other page and label sizes.
Single QSO Labels:
1. Example 3x9 label:
The first example is a label for a single QSO arranged for Avery label sheets type L4737. This sheet covers 3x9 labels. The master structure of this label as generated by the label designer is shown in the following sample: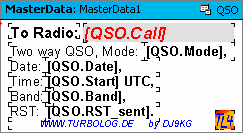 Figure 382: Label Master Structure
This design will yield a printout as shown below by means of 6 sample QSOs:

Figure 383: Label 3x9 Sample
A similar label design is available on TurboLog 4's menu featuring Avery L7160, 3x7 on A4-sheets.
2. Example 2x5 label:
The second example is based on the 2x5 label layout of Avery's label sheet type L 4738. Due to the larger print area on this type of label more individual text can be spent. The label is defined by the following design layout as generated by the label designer: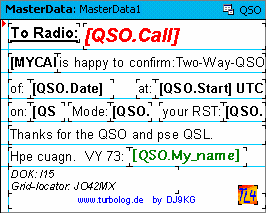 Figure 384: Label Master Structure
This design yields the following print samples: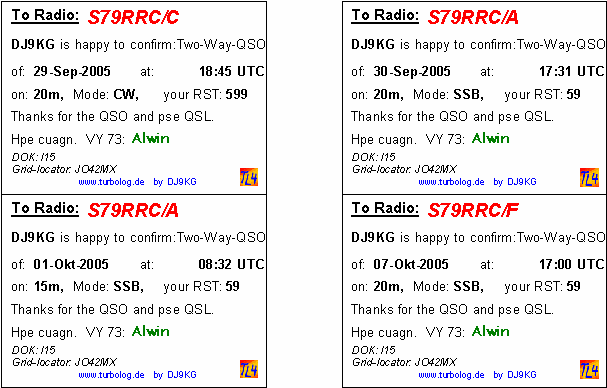 Figure 385: Label 2x5 Sample
3. Example 2x7 label:
The third example is a very nice design utilising Avery L7163, a 2x7 arrangement on A4 sheets. The width of these labels encourages the customer to arrange data in a small table. The master label is designed as follows: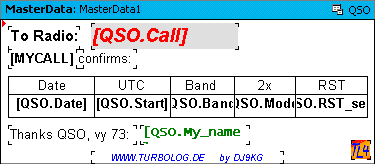 Figure 386: Label Master Structure
With this design template the results will be received as depicted below:

Figure 387: Label 2x7 Sample
4. Example: Direct printing on the QSL card
Direct printing on the QSL card saves money and thus provides an attractive alternative in label printing operations. TurboLog 4 fully supports this nice feature. A typical design is described by means of DJ9KG's QSL card. This card has preprinted fields for the QSO data on its reverse side. These fields could equally well be filled manually. Thus, precisely printing into these fields is the challenge. Thanks to the very accurate representation of dimensions in the label designer the exact printing positions can be found after a very few trials. Just to give an example the design on a card of 100mm x 148mm looks as follows: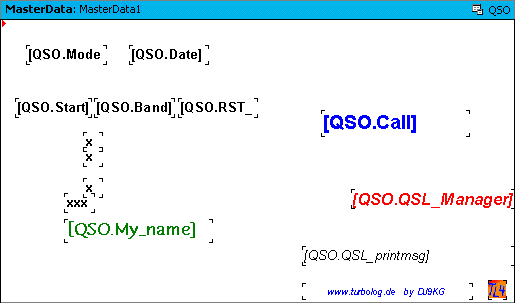 Figure 388: Label for Direct Printing, Master Structure
Filled with real data this design yields the print below:
Figure 389: Direct Print on Backside of QSL Card
Please note the small x. They serve for filling small checkboxes. The print is so accurate that one can dare to check these boxes by the printer instead of doing it manually.
Please further note the use of the QSL-print-message which was inserted for being rendered on the card. This message is read from the logging field QSL_printmsg. This allows you to assign individual or standard remarks to every single QSO in order to provide a personal touch to your partners.
Multi QSO Labels:
The following is a selection of multi QSO labels that are adapted to common label sheets. It does not make much sense to design labels which cannot cover more than say just two lines of QSO data besides the necessary header and desirable footer lines. Thus a good multi QSO label should be large in height in order to facilitate many lines of QSO data.
1. Example 2x5 label:
The Avery label sheet type L4738 featuring a 2x5 grid is well suited for this purpose. A MasterData1 design dedicated to this sheet is defined as below ( Menu item: MultiLabel_2X5_L4738_2 ):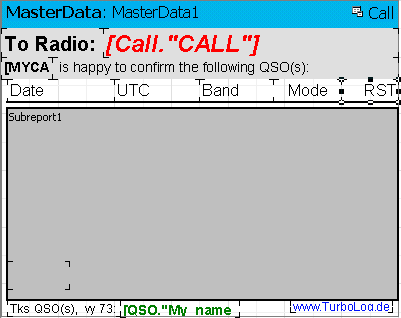 Figure 390: MultiLabel design fitting L4738 label sheets
The MasterData2 page belonging to it ( ... covered by the dark gray area ... ) has the following structure: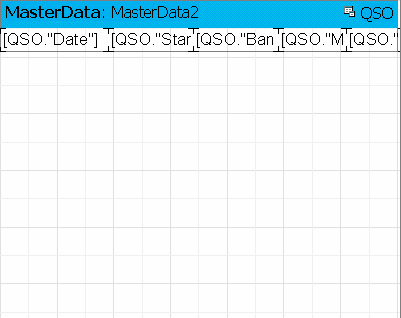 Figure 391: Joint SubReport ( Masterdata2 ) design for above MultiLabel
Both pages together yield the following printout example:

Figure 392: Output sample for a single Call from above MultiLabel design
According to the design with header and footer information this label collects QSL data from 8 contacts.
2. Example 3x9 label:
Up to 3 QSOs can easily be confirmed by means of a smaller label which is based on L4737 label sheets featuring a grid of 3x9. There are several different designs available on the menu of the label factory. The menu item MultiLabel_3X9_L4737_2, for example, is constructed as follows: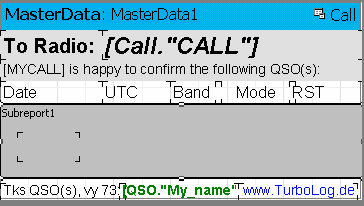 Figure 393: MultiLabel design fitting L4737 label sheets
This design requires the following data structure on the joint sub report page: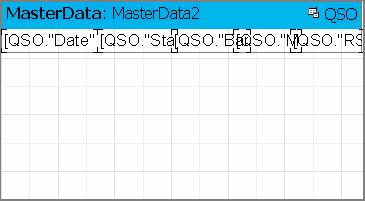 Figure 394: Joint SubReport ( Masterdata2 ) design for above MultiLabel
The resulting printout from these designs is depicted below:

Figure 395: Output sample from above 3x9 MultiLabel design
This topic was last edited on Thursday, 17-Jun-2021, at 10:49