First installation of TurboLog 4 and updating the program is performed by means of the standard WINDOWS SETUP wizard.
Before you update your existing version we strongly recommend to run a backup of all databases.
Although SETUP will not touch any of them it is always good practice to backup, just in case of power glitches and other unforeseeable events.
After having downloaded the installation file Turbolog4_Setup.exe into a temporary directory such as ..\TEMP and double clicking on the file name the SETUP procedure will be started: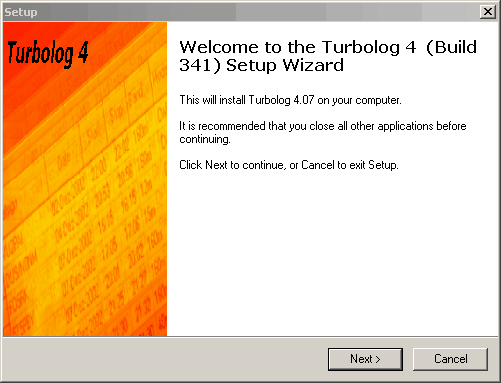 Figure 3: Setup Frame
Please strictly follow the instructions given on the display.
Clicking the Next Button will continue the SETUP procedure and prompt with the following information: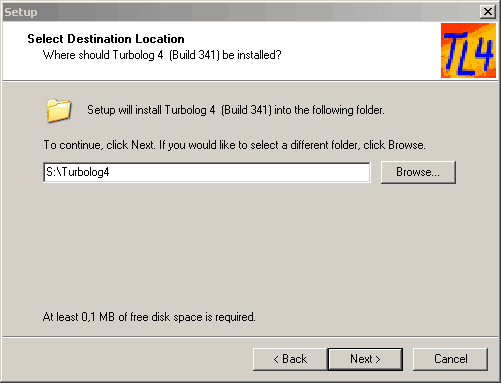 Figure 4: Select Folder to install
Setup suggests a folder for installation. In case you are updating: Make sure you select the folder in which you are running the existing version in order to allow SETUP to update various files. If you install for the first time you should make sure you are not installing into the same directory from which you have started the downloaded file.
Please note:
In order to prevent any potential problems with the strange way user rights are administered in WINDOWS in particular in Windows-7.x , Windows 8.x and Windows-10 we urge you not to install TurboLog 4 under the following Windows default directory:
C:\Programs\... .
Reason: If you do not have supervisor rights on your machine WINDOWS may not allow the program to write or retrieve data during a program session into/from this directory...!
These problems can easily be overcome by creating the TurboLog 4 program folder to be :
C:\Turbolog4\...
D:\TurboLog\...
D:\Programs\...
X:\TL4\...
for example.
In case your hard disk drive contains just one partition you must
install directly under C:\Turbolog4\... .
However, you should consider to create a second partition ( Logical Disk Drive ) before you continue. You can do it yourself as described under the link to Logical Disk Drive, by means of a utility program for disk partitioning or with a helping hand from your PC-dealer or from an experienced friend.
On your way ahead you should say YES to the following ...
Figure 5: Prompt for Overwriting
...if you want to overwrite the existing folder with the new update. Likewise, in case of a brand new installation you will be asked to allow to create a new directory with the name given. Please say YES as well.
You can now decide on a partial SETUP. In case you are not sure what to do or you install for the first time you should select all components as indicated in the following display: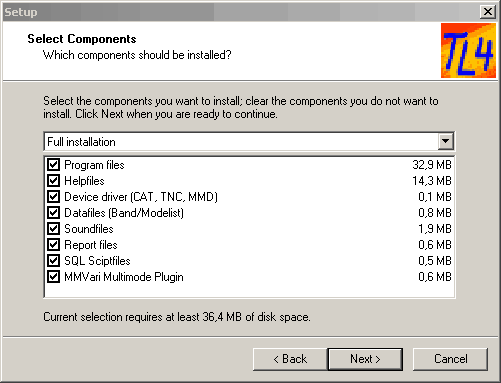 Figure 6: Select Components
In TurboLog 4 version 4.10 and upwards the list of components includes the MMVARI Multimode Plugin files. This component is shown as the last entry in the list of items. These files include an OCX plug-in which also requires administrator rights for installation on your machine.
Unfortunately, if you don't like OCX on your system you will have to set MMVARI aside and tick-off the check box in the last line.
Again click the Next button to continue.
The following prompt is for selecting the start menu folder. It will be as suggested in most cases. Thus, you should only click the Next button to continue:
Figure 7: Select Start Menu Folder
The second last prompt summarizes your selections for a final check before installation: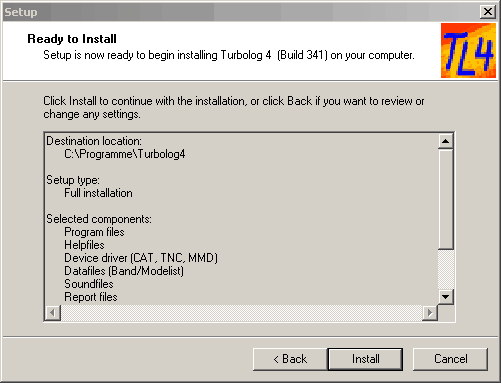 Figure 8: Summary before Installation
Clicking the Install button will start the SETUP procedure. There are now bar indicators appearing on the screen in order to inform you of the procedure's progress. Finally, clicking the Finish button will end the procedure: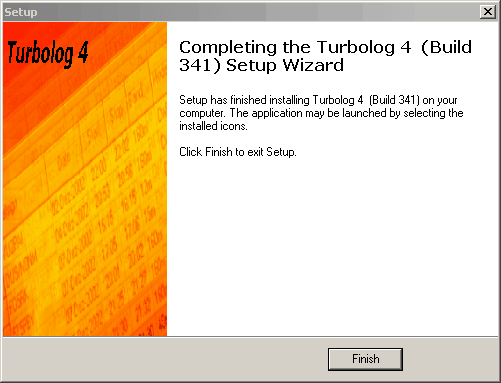 Figure 9: Finish Installation
Depending on your selections and on whether you run an all time first installation or an update from a new release other prompts may appear. In all cases you should carefully read the information provided. SETUP will not delete or overwrite any data before prompting you for your decision. In case you are not sure how to decide you can always cancel the procedure at any intermediate step and ask for advise. Likewise, if you remain in doubts you could still run a setup on test data which you copied into a separate partition of you hard disk from your original data.
Like every other WINDOWS program TurboLog 4 can be uninstalled from your PC by applying the standard procedure from the WINDOWS system control.
This topic was last edited on Thursday, 17-Jun-2021, at 10:48