The content of TurboLog 4's data is accessed and displayed in grids. These data containers can be fully customized by the user. Customization is described in greater details, e.g. in the section on the Logbook & Log Review Window. In TurboLog 4we follow the What-You-See-Is-What-You-Get approach ( WYSIWYG ). This means: the print looks identical to the grid display on the screen....paper size permitting. Thus, customizing a grid always also determines the layout of the print by the same action.
This implementation allows printing from the following grids:
•All logbooks
•Logbook search and filter results
•Calls.dat ( Irregular calls database )
•Bands & Modes table
•All Packet tables:
- DX de
- Filtered
- WCY/WWV
- Mail
- Talk
- Search operations on packet tables
Just like the customization procedure itself the printing facility is available from the context menu which opens on clicking the right mouse key while the mouse is over the grid of concern. The printing command is part of the menu box which then pops up.
In case of the logbook related windows it is available at the indicated position: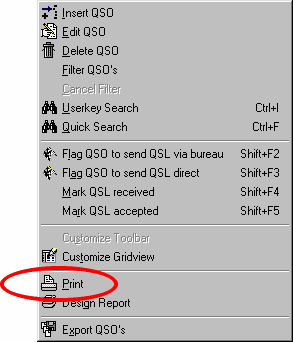 Figure 331: Printing from Context Menu in Log Grid
The packet grids typically pop up the following context menu: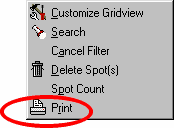 Figure 332: Printing from Context Menu in Packet Grids

Similar menus are available from other data grids.
Getting ready for printing:
Before you call the context menu in order to start a print operation you need to select the grid you want to print from. It should be customized to your demands since the header, row and column outline will be the same on your print report. Depending on your printer and on paper size you may need to arrange the width of the columns in the grid to be printed. Arranging the columns is outlined in greater details in the paragraph on Customizing the Logbook Window. We recommend to save your grid arrangement for printing as a separate item of grid customization. This will allow you to rapidly recall it for a future print job.
If you want to print results from a search or filter operation it has to be performed first. The next step is to select a range of records for the print output. If you just focus the grid by highlighting one single record the complete data in the grid will be printed. A range of records can be selected by standard WINDOWS procedures:
Click with the Shift key pressed in order to select a record which you want to become the first range limit. Move to the record which you want to select as second limit. If you click this one with the Shift key pressed the whole range between both records is highlighted and selected for printing.
With the mouse still over the selected range you now need to call the context menu as described above and click the print command.
On commanding a print operation the print preview page opens.
This topic was last edited on Thursday, 17-Jun-2021, at 10:49